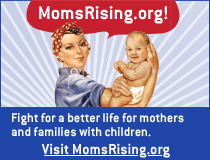 Many other amazing moms that I knew from the days of full-time employment are similarly flummoxed by trying to find a new balance of work and life. It sucks.
petition at Moms Rising. You can print out an excerpt from the book and create some bedtime reading for yourself.
Or you can buy the book, the Motherhood Manifesto, and find out what America's moms want and what to do about it. What a good Mother's Day gift for yourself!!